Advisor Ambassador 2020
At NAIFA, we're all about strengthening the insurance and financial services industry by helping advisors grow their knowledge and be their best at serving clients.
That's why we're offering you – the non-member – free access to NAIFA's advisor development program so you can learn from the best while sampling professional benefits that come with NAIFA membership.
For just 30-minutes a week, join NAIFA leaders for live strategic discussion, industry insight and advice to put you on a path to success.
June 2020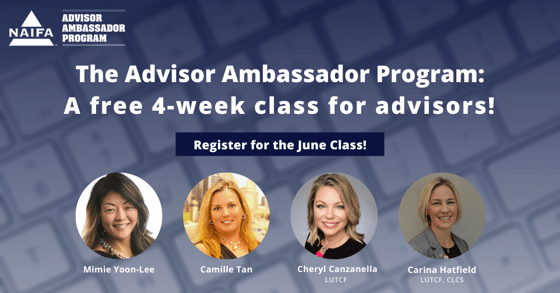 June: Tuesdays at 2pm ET
June 9th: Learn Exceptional Prospecting Practices
June 16th: Build Your Professional Network
June 23rd: Master Your Brand, Maximize Your Growth
June 30th: Being a Leader in the Industry and Your Community
You can join the class at any time or week and catch up through on-demand recordings.
Can't make the start time? Look for the recorded edition on-demand. Register today. We promise the investment will be well worth your time.
Classes will be live-streamed and recorded so you can watch on-demand, but you will miss the benefit of live interaction with our featured advisor. Participants that attend all four weeks will receive a letter of participation signed by NAIFA President, Cammie Scott as well as NAIFA CEO, Kevin Mayeux.